The Umbraco Advent Calendar is Back!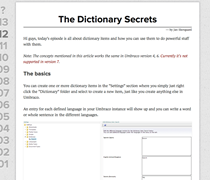 If you are an Umbraco developer, designer, or user you have to take a visit to the 24 Days In Umbraco website.  Its an amazing collection of articles, tutorials, and tips on how to get the most out of your Umbraco sites.  Every day the is a new post and the topics range from the highly technical to backoffice tricks to how to think about building a website.  Its really a collection of articles that you cannot miss.
Last year, I had the honor of being a part of the calendar with my article on Razor and Faceted Search In Umbraco.  In fact, its worth checking out the 2012 24 Days In Umbraco Archive for more great tips.
Enjoy and have a great holiday season!