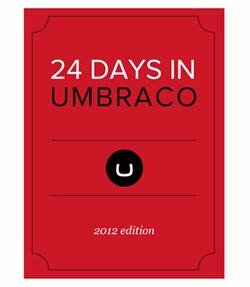 Itching for some awesome Umbraco articles, tips, and how-tos?  Want to read it on an airplane or in a place with no Wifi?  Then check out the 24Days in Umbraco eBook/PDF!
24 Days in Umbraco is a Christmas calendar / gift from the Umbraco community to the Umbraco community and is full of resources from the leading minds in the Umbraco world.  Each day a new author posted an article about how to use Umbraco better or do something tricky.  And it turned out to be a great project!
I am honored to be one of the writers and am happy that the organizers of the 24 days project thought to include me.  My post can be found on Day 19: Razor and Faceted Search In Umbraco.
What are you waiting for?  Go download the eBook or PDF and start learning!